Childhood obesity is a serious medical condition not just in India, but across the globe. In developed countries, this problem has reached epidemic proportions while developing countries are not far behind. It is estimated that worldwide over 2.3 million children under the age of five are obese. One is 10 children is overweight India is said to have the second highest number of obese child in the world behind only China.
Childhood obesity is particularly troubling because the extra pounds lead to health problems that were once considered to affect only adults.
These ailments include dia¬betes, high blood pressure, high cholesterol, asthma, sleep apnea, fatty liver, gall bladder problems, gastro oesophageal reflux, etc. Many obese children become obese adults especially if one or both parents are obese. Obesity can also lead to poor self-esteem and depression. One of the best strategies to reduce child¬hood obesity is to improve eating and exercise habits of the entire family"
Causes Obesity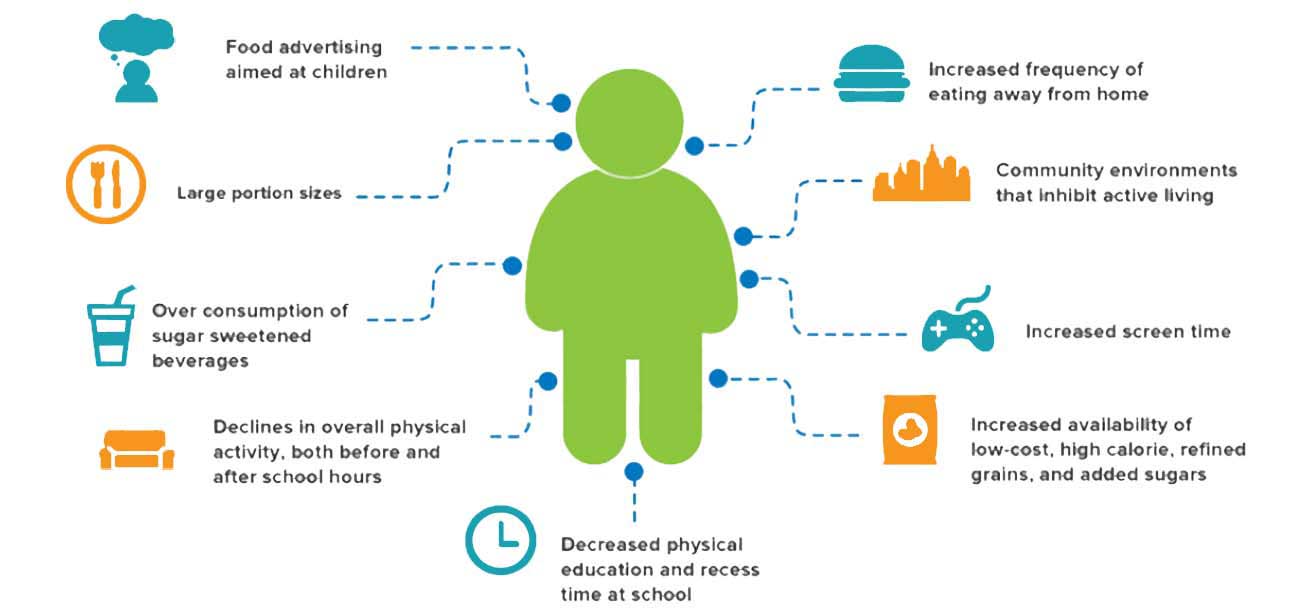 Lack of physical activity
Overindulgence in indoor leisure activities, (too much of television viewing, computer games or the internet)
Lack of open spaces and playground in school and communities along with increasing pressure on children to perform in academics and reduction on the emphasis on sports.
Excess calorie intake is also a big concern. Unrestricted access to energy filled foods should be forbidden.
Lifestyle related factors also play a part Daily allowances to purchase food, commuting to school by bus and car instead of walking or cycling, and aggressive advertising by trans-naleonal fast food and cola companies.
Sociocultural factors and urbanisation, overprotection and forced feeding by parents, false traditional beliefs about health and nutrition, low knowledge about nutrition in parents and caregivers, limited availability of open spaces and parks due to population explosion and illegal settlement with abundance of fast food outlets and eatery points.
Some common food myths related to children
Myth

- Fat children are healthy, as they are not undernourished

Reality

- Fat children are not healthy inside. About 28% of fat children have syndrome X. They have a risk for chronic lifestyle diseases


Myth

- With age, children will gain height and loose fat

Reality

- Majority of obese children become obese adults

Myth

- So what, if a child is obese! Obesity is a problem of adults and not of children

Reality

- Fat children are at risk of developing early diabetes. Girls may develop polycystic ovarian syndrome

Myth

- Children do not develop high blood pressure or high cholesterol

Reality

- Many children will have high blood pressure and low HDL-cholesterol

Myth

- Children by nature are physically active

Reality

- Time on TV, Internet and studies leaves little time for play. Many do not participate in sports activity in mandatory sports periods in schools.

Myth

- Observing a child to be fat is considered inauspicious

Reality

- Obesity in children should be viewed with concern
Hazards of obesity in school children.
Physical
Respiratory and sleep problems
Insulin resistance
High blood pressure
Dyslipidemia
Musculoskeletal problems
Gall stones
Fatty liver
Psychological
Low self-esteem, increased depressive symptoms and unhealthy dietary practices
Social
Low participation in social activities
Lack of social support due to less interaction with peers
Prevention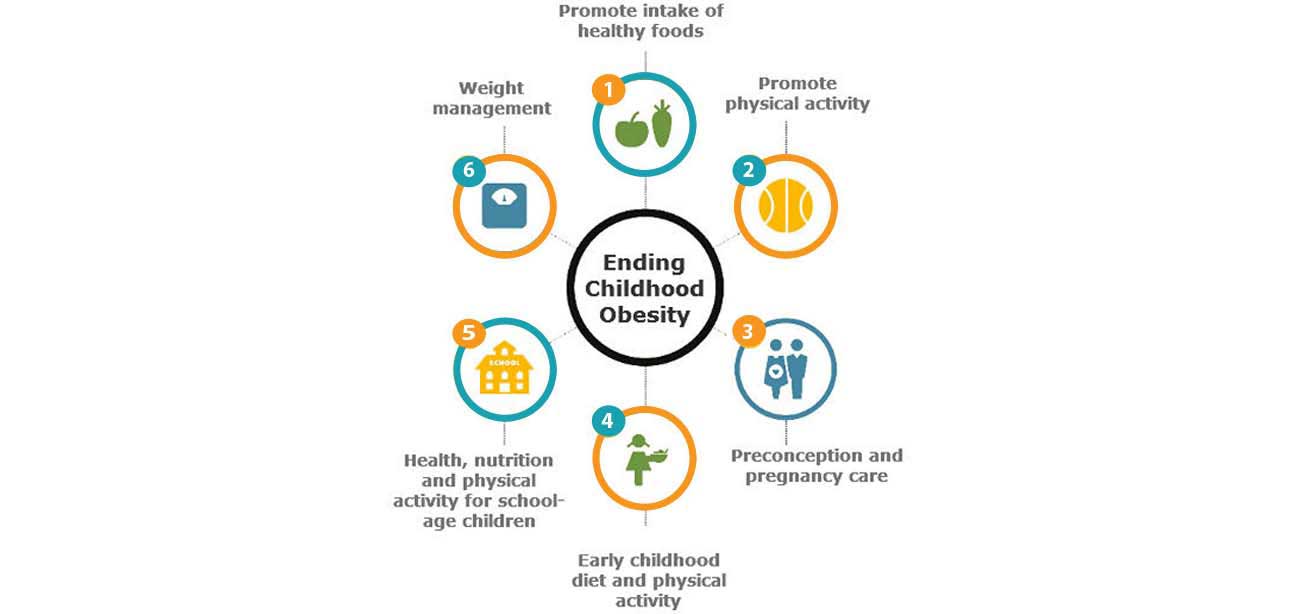 All health care personnel unanimously agree that prevention is a key strategy for controlling the current epidemic of obesity.
Central measures
Controlling sales of food in public institutions to ensure that only healthy food sold in schools and preschools.
Control on food, drink, adver¬tising on TV/ internet and print media.
Home-based interventions
TV/ computer time to be restricted to maximum two hour/ day.
Mandatory 60 minutes of physical activity daily supervised by parents.
Restriction on eating out at weekends and restricting availability of junk food at home.
School level Intervention
High emphasis on physical activity.
Training teachers about nutrition
Incorporation of more knowledge about nutrition education, physical activity, nutrition- related classes in curriculum.
Banning unhealthy food at the cafeteria
Mandatory nutritional information on food labels that is clear and easy to understand
Common agricultural policy reforms and subsidies on healthy food, fruits and vegetables
Identifying the risk of obesity/ over weight children early